By Dave Hitt on Jun 26, 2009 in Featured, Things Atheists Didn't Do
This is another installment in our continuing series of  Things Atheists Didn't Do.
A pedophile priest, not an atheist, claimed he was only giving his victim anatomy lessons.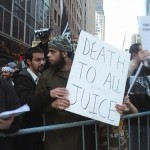 Muslims in Pakistan stoned a Christian man to death.  His crime?  Drinking tea at a roadside stall that was designated for Muslims only.
When a Christian church that tortured a gay teen via an exorcism to rid him of his faggy demon was criticized for their stupidity, Dr Gary Cass of the Christian Anti-Defamation Commission slammed the critics, accusing them of intolerance.
An Oregon couple let their 15 month child die of pneumonia, refusing medical treatment and praying for her instead.  If her parents had been atheists she would be alive right now.
A orthodox Jewish couple are suing their neighbors, claiming that an automatic hall light, which is triggered by people entering the hall, imprisons them in their apartment.  This, they claim, prevents them from leaving on the Sabbath.  If they were atheists instead of idiots they could leave whenever they want.
Eight people drowned a 22 year old mother of two trying to lift a curse from her.  She would have been much better off with atheist friends.
An Islamic woman starved one of her children to death, after torturing her, because she thought she was possessed.  Her other five children were seriously malnourished.  Too bad her mother wasn't an atheist.
By Fr. Alphonse de Valk has declared that Atheism is a threat to civilization.  If he were an atheist he'd be smarter than that.  Not to be outdone, Cardinal Cormac Murphy O'Connor has declared that atheists are not fully human.
Opening a dialog between religions may not be a good idea.  Ernest McCullough, a Christan, got into an argument about religion with a Muslim, who ended the debate by shooting him in the leg.
In Maryland, a woman starved her son to death because he wouldn't say Amen.  She's expecting him to be resurrected.  That hasn't happened so far.  Yet another child who would have been much better off with atheist parents.
In India at least 50 people went blind staring into the sun looking for an image of the Virgin Mary.  Atheists are never blinded by the light.
When woman with an atheist boyfriend asked Pat Robertson for advice about finding a middle ground with him, Pat told her to break up with him because he's "serving the devil."
In India a "Hindu Taliban" is attacking woman for drinking in bars and dressing inappropriately, including those wearing bathing suits at the beach and t-shirts with pictures of their deities on them.  There are no reports of atheists beating up women over religion.
In Afghanistan a Mullah who spoke out against suicide attacks was murdered by other members of his religion of peace.
In Russia two Jehovah's Witnesses went on a murder spree killing 13 people to rid the world of sin.  (They should have just become vampires.)
In India two seven year old girls were married to frogs to prevent the disease outbreaks in the village.  Atheists don't advocate girl-frog marriage.
A pretty sixteen year old girl was stabbed to death by her Muslim brother for listening to rock and roll and wearing makup.  He stabbed her 26 times.  He was preserving the family honor.