By Dave Hitt on May 27, 2013 in Atheism, Religion
Last week the pope announced that atheists might go to heaven. To which I replied, "How dare you threaten me!" 
He was wearing his pretty white dress with 24 carat gold trimmings and enough gold jewelry to make Liberace jealous, surrounded by other men wearing similarly fabulous attire. He took a break from condemning gayness to proclaim:
"The Lord has redeemed all of us, all of us, with the Blood of Christ: all of us, not just Catholics. Everyone! 'Father, the atheists?' Even the atheists. Everyone! … 'But I don't believe, Father, I am an atheist!' But do good: we will meet one another there."
Why would an atheist want to go to heaven? There's nothing to do there. Sure, their version of Handel's 'Messiah' has got to be amazing, but after two or three listens you're going to want to hear some Allman Brothers, and they're not up there. Does heaven have steaks, cooked to perfection with just the tiniest bit of perfect seasoning? Cuban Montecristos and Cohibas? Craft beer and fine Bourbon? Hot and willing women? No, no, no, and hell no. Heaven, heaven is a place, a place where nothing, ever happens.
Wait, what's this?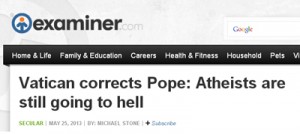 Whew. That's a relief. They had me scared for a minute there.
This, my friends, is what heaven should sound like. It doesn't, but that's OK, because can listen to it right now, here on earth.