By Dave Hitt on Nov 20, 2016 in Politics, Pop Culture
Over the years I've participated in every performing art except dance. There are unenforced rules that guide every good performer. The Show Must Go On. Always Leave Them Wanting More. Don't Work With Kids or Animals. And one that is just as important, but seldom discussed: Give Them What You Promised.
If you said you were going to make them laugh or cry, make them laugh or cry. If you advertised a show that would amaze them, you better amaze them. If you promised a show that would change their life, you won't be able to deliver, so don't make that promise.
If you're an actor, you should respect and love your audience. They could have stayed home and watched Netflix. They could have made the easy, unimaginative decision to go to a movie. Instead, they spent good money, in bad money times, to come to your theater and sit in the dark and give you an opportunity to entertain them. You owe them.
Unless they're disruptive, an actor should never, ever, single someone out and make them uncomfortable. It's stupidly unprofessional. It ruins the show. It's bad theater.
When Mike Pence went to see "Hamilton," the audience was so upset he was there, and booed so long and loudly, that the show was paused briefly to give them a chance to start acting like grownups.
At the end of the show, one of the actors lectured Pence from the stage with a subtly snarky attack.
The Left is delighted, saying it was wonderful and classy. They are, as usual, wrong. Lecturing an audience member from the stage is not, never has been and never will be, wonderful or classy.
Pence is an ignorant, hate-filled, vile human being. He is a Christian Supremacist who thinks gays should be "converted," supports the PATRIOT act, believes evolution is a lie, wants to overturn Roe v. Wade, cheers "stop and frisk," loves having BigBrother spy on us, and wants to keep throwing people in prison for possessing an unapproved plant. He should be roundly and soundly critiqued for all of that, and more, often. But none of his vileness justifies publicly chastising him from the theater stage. It was the wrong venue.
It would have been perfectly acceptable to do it in the theater lobby, or at a political rally, or a press conference, or even shouting it at him while he was walking down the street. But in a theater, where he was a paying customer, it was wrong and unprofessional and Very Bad Theater.
Having said all that…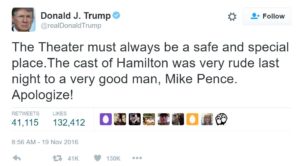 The reaction from his boss is entertaining and appalling. Donald fired up his Tiny Trump Twitter-Tapping Fingers® and whined about it like a perpetually offended SJW. Two weeks ago he was elected on a platform of being anti-PC. Now he's actually calling for a Safe Space! As I publish this, days later, he's still at it, twittering away like an angry twelve-year-old.
Mr. Pence, if you're going to put your vile self one heartbeat away from the presidency, you're going to have to learn how to handle complaints, ridicule, insults and verbal attacks with grace and style, regardless of the source. Having the Howler Monkey grouse about it for you is gutless and pathetically weak. To quote a line you wouldn't recognize from a playwright you wouldn't understand: "Ambition should be made of sterner stuff."