By Dave Hitt on Jul 31, 2007 in Political Correctness, Ridiculous, Yeah - That'll Work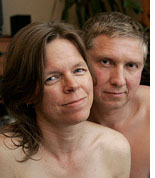 If you eat meat, neither of these people will have sex with you.
They call themselves Vegansexuals, because they wouldn't want to call themselves something ridiculous, and think they're making a point by refusing to have sex with carnivores.
Can you think of a better reason to order a thick, juicy steak?
The woman is the one on the left. Probably.