By Dave Hitt on Dec 2, 2007 in Religion
You may already be following the story of Gillian Gibbons, the school teacher who asked her class of seven year olds to name the class teddy bear. They picked the name Mohamed. She was promptly arrested, thrown in jail, and told that she could get 40 lashes for such a heinous crime.
She was trying to teach the kids about animals and their habitats. Instead, she showed the world about animals and their religion.
She was found guilty of insulting religion and sentenced to 15 days, without a beating, and that's where most news coverage ends. But there's more to the story – a thousand Muslims, with hate in their eyes and swords in their hands, protested, demanding that she be executed. Over a teddy bear.
And yet, we are told, Islam is a religion of peace.
Meanwhile, we haven't heard much about the Saudi woman who was raped by seven men and sentenced to 90 lashes for being out with a male who wasn't related. When she complained about it publicly her sentence was raised to 200 lashes and six months in jail.
She should have just run away. Then she'd only be getting 60 lashes to go with her six months.
And still we are told that Islam is a religion of peace that highly respects women. So respectful that they've published a guide that shows the proper way to beat your women.
Why do so many of them despise women? Because those evil women distract men from their prayers. A spiritual leader in Malaysia says men are "abused" by seeing them. "We always [hear about] the abuse of children and wives in households, which is easily perceived by the eye, but the emotional abuse of men cannot be seen," Nik Abdul Aziz said. "Our prayers become unfocused and our sleep is often disturbed."
If their faith is so fragile it can be damaged by a glimpse of a woman wearing something sexy, we may have a new, cheap weapon in the war on terror.
Victoria's Secret will send free soft core porn to anyone requesting it. Let's have them print up a few hundred million extra copies every month and air drop them over Muslim countries and communities. Over time Muslim males will collect a secret stash to enjoy over and over. It will take a while, but maybe, just maybe, it will cure them of their insanity.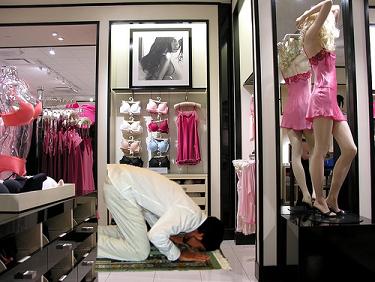 (Thanks to Dr. Atlantis at the Skepticality forum for the picture.)